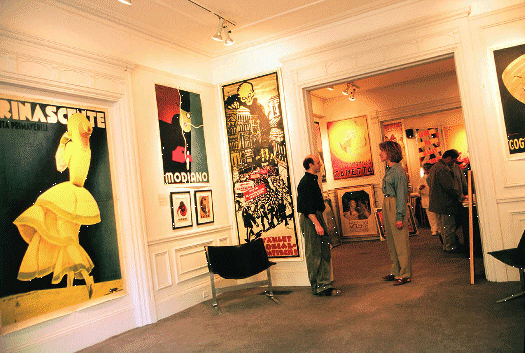 Our philosophy is reflected in our name: we believe great posters come from every corner of the globe. Unlike most galleries, which are dominated by French posters, International Poster Gallery features a diverse selection from around the world, especially Italy, Switzerland, the Soviet Union, France, the U.S. and Holland.
My interest in posters began with a desire to fill bare walls at home and office. To my surprise I found that no one was collecting Italian posters, despite their obvious beauty. Now after a decade of tracking down these great posters, I am proud to say that International Poster Gallery holds the largest collection of Italian poster masterpieces for sale in the world. Over the years we have supplemented our Italian collection with many of the classics from other countries.
Posters represent the intersection of art and commerce, a mixture that reflects my own training and background. After studying Art History at Yale University, where I specialized in Italian Renaissance art, I earned an MBA at Harvard and spent over twenty years in corporate life. The Gallery has allowed me to exercise my twin passions simultaneously!
One of our major activities has been a full schedule of poster exhibits at the Gallery and various museums. Two of our best were War and Revolution: Propaganda Posters from America in WWI & from the Russian Revolution, and The Italian Poster Rediscovered, the first major gallery exhibition of Italian poster masterpieces in the U.S.
Our exhibitions have been well received by The New York Times, The Boston Globe, Worth Magazine and the Boston Business Journal. (Press clips can be found below.) In 1996 and again in 1998, the Gallery was the only art gallery to receive the Best of Boston Award from Boston Magazine.
The Gallery has been managed since its inception by Richard Hollander, who bought his first poster (Cappiello's Nitrolian) in the early '80s. Richard is assisted by a terrific staff who speak French, German and Italian fluently, and have limited knowledge of Spanish.
We aim to complement our world class collection with superior customer service. Whether you are looking for one poster or want to put together a major collection, we would be glad to assist.
I hope you enjoy our website, and also urge you to visit our Gallery for one of our shows or just to see how original vintage lithographic posters look in person – the ten foot tall Tosca can't quite be appreciated on a 14-inch monitor!
We are located in Boston's Back Bay, an area that combines historic buildings, the city's top art galleries and Boston's most fashionable shopping streets. Come visit!